Generations of Quality
From quality machines to quality accessories, Machinery Exchange has you covered for all of your metalworking needs. We are a proud member of the Machinery Dealers National Association and have served the metalworking industry for over 30 years. We specialize in Haas, Fadal, Daewoo and Japanese CNC Machining/Turning Centers.
Our mission is simple: To find you the right tool for the job.
Our Pre-Owned Inventory
We pride ourselves on carrying full product lines from trusted brands, including: Omniturn CNC Turning Centers, Republic Lagun Mills and Lathes, Haas Rotary Products, and more. We offer an exclusive 30-day return privilege on the majority of our pre-owned inventory.
View Models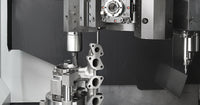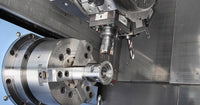 Our New Machines
We offer a wide variety of CNC and manual machines...Haas, Fadal, Nakamura, Daewoo, Doosan, Kia, Mori Seiki, Clark, Hitatchi Seiki, Emco, Bridgeport, Cincinatti, Clausing, & Hardinge are just a few of the brands we carry. Your complete satisfaction is our priority.
View Models
Our Testimonials
The people at Machinery Exchange are great people to work with. I have been doing business with Pat since 1995. They offer quality equipment at great prices.

Richard McNamara
Pat and the crew at Machinery Exchange was very responsive and efficient purchasing and taking away our unused machines and equipment. They are great to work with and will use them again for both purchasing and trading in equipment.

Eric Grabow
I have done business with Machinery Exchange since 1992. I have always found them to be straightforward, responsive and honest in all of our dealings. We have just completed a rather complicated transaction to my complete satisfaction.

L.H. Boehme
Shop on Ebay
Looking for something for your machines? If so, we have tool holders, tools, boards, parts, or other equipment on our eBay store! We have all of our non-machine products on eBay, as well as our machines. So come and check it out!
Go to Ebay
Request a Machine
Are you looking for a specific machine? Having trouble finding it? Let us know what machine you are looking for, so we can locate one for you. We have a wide network of connections, so there is a good possibility that we can find your machine.
Request Now
Sell Your Machine
We are constantly looking for specific machines. If you have one of the machines that we are looking for, we'll pay top dollar! We are always looking to find certain machines, so check out what we need. Contact us for more information!
Sell Today